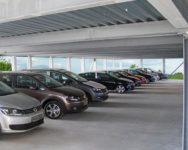 By Dr. Sanjay Chaturvedi, LLB, Ph.D.
Sanjeev Dharkar V/s M/s. Arkade Realty (CC006000000001135) Order dated 13th December 2017
The complainant, who is a resident in a completed building in the above-registered project, has filed this complaint seeking directions of Maha RERA to the respondent to allow him to park his vehicle inside the compound wall of the building. The Complainant has further alleged that the Respondent is selling open car parking by collecting in cash without any documentation.
Maha RERA Order: On the facts mentioned above, we direct the Respondent to allow parking of Complainant's vehicle in the premises, as is being done for other allottees. As per the Act, Rules and Regulations, the respondent cannot sell open parking space, which has to be handed over to the legal entity of the allottees when it is formed.